6 Reasons Why Toronto Is The Best City To Build An Engineering Team
1. Top global tech hub with more AI Scientists per capita than any other city behind the Bay Area.

The Toronto Region is one of the top producers of STEM grads in North America and is expanding many programs in applied artificial intelligence.
With a long history of artificial neural network research and a high concentration of AI talent, Toronto has become a hot spot for AI research and talent. Companies investing in Toronto include:
Google that pumped US$150 million into The Vector Institute, a leading Canadian AI initiative housed at the University of Toronto, and launched Google Brain Toronto;
Uber that hired University of Toronto associate professor Raquel Urtasun to lead a new Toronto lab focused on self-driving technologies.
NVIDIA's AI research facility to further explore novel approaches to deep learning.
Etsy set up Canada's first Machine Learning Center of Excellence.
Toronto is also the top city in North America on many important quality of life metrics, including safety, crime, healthcare and education. It's known as one of the most educated and diverse work forces in the world.
2. A tax credit program that gets you 15 - 45% of your engineering costs back

The SR&ED ( "Scientific Research and Experimental Development") tax credit program enables foreign-controlled and Canadian-controlled companies to earn investment tax credits on qualified expenditures either in the form of a cash refund, a reduction in taxes paid, or both (you do need to be profitable or paying taxes to claim this refund).
The SR&ED program provides over $3B in tax incentives to over 20,000+ claimants annually - most of which are small businesses.
Companies qualify if they have performed eligible research and development (R&D) to create a new product or process or improve an existing one.
Expenses that can be compiled when calculating total credits owed include:
Salaries and wages
Materials
Subcontracting fees
Overhead
3. Significantly lower salary & office costs with the current exchange rate.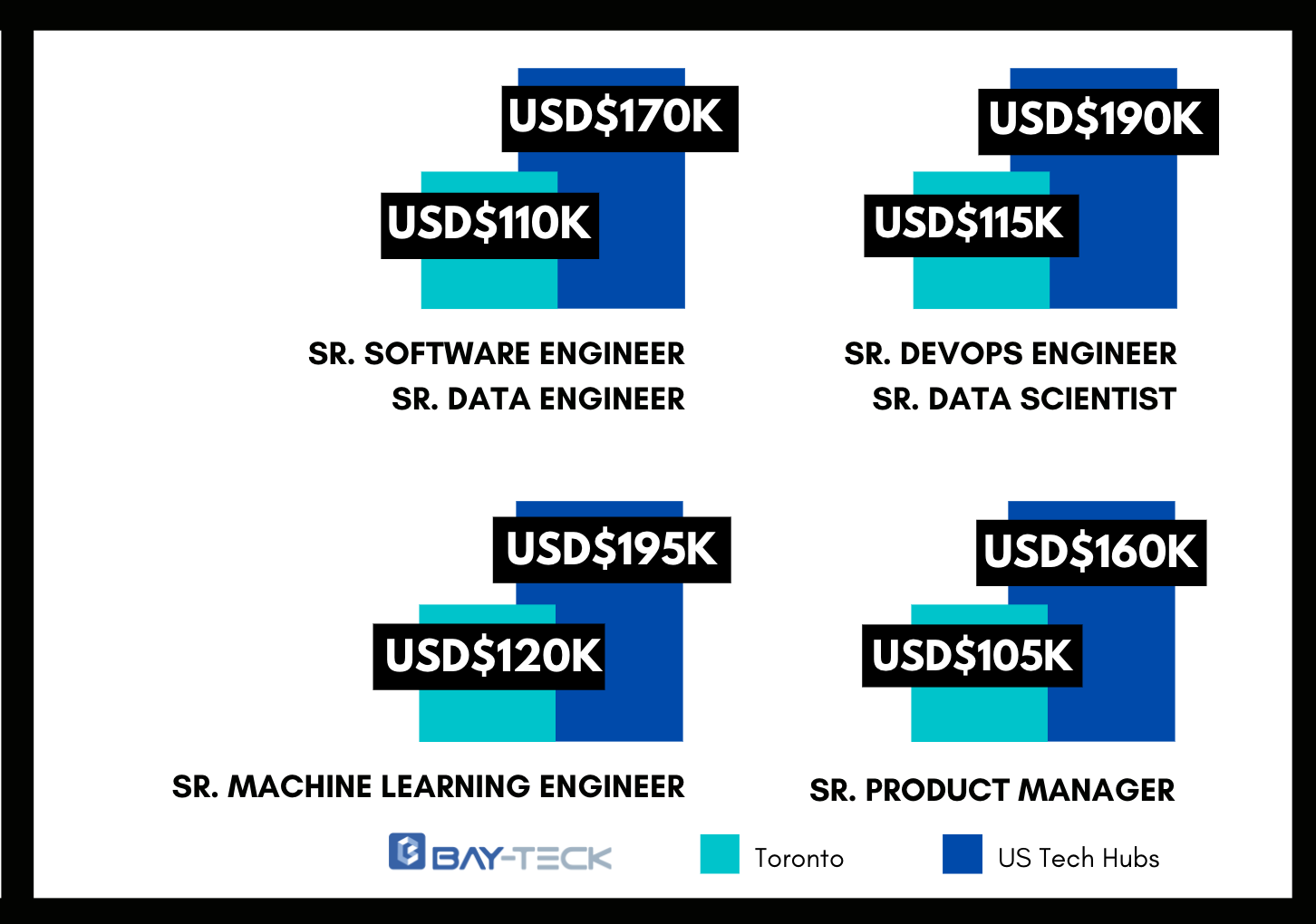 In the chart above we're using the example of Senior profiles with 4+ years experience.
Senior Engineers at this salary level have studied at the top engineering schools in Canada such as University of Waterloo, University of Toronto, or other top international universities prior to moving to Toronto.
They are typically engineers that get approached by top US tech companies but prefer Toronto because of a higher quality of life due to a lower cost of living.
4. The government funded Vector Institute for Artificial Intelligence, led by Google VP & Engineering Fellow Geoff Hinton, helps Toronto attract and retain the world's leading AI talent.
As part of an effort to produce, attract and retain top talent in Toronto - the independent institute aims to produce more deep learning grads than any other worldwide.
Gillian Hadfield, Director of the Schwartz Reisman Institute for Technology and Society - suggested Canada can be a world leader in this area since it "was the birthplace of the deep learning techniques driving this revolution and the first country to have a national strategy with a commitment from government, industry and our universities to build AI talent and investment."
Companies, including Google, Uber and Thales as well as big Canadian firms like the Royal Bank of Canada, Scotiabank and Air Canada, pay a high premium to work closely with the institute's academic talent – C$300,000 dollars on average for a five-year membership.
According to Vector's CEO, Gibson - these companies invest a fair amount of direct cash, but also the time of their personnel as well.
Big business and multi-level government support to lead AI initiatives globally keeps Toronto at the top of the list for tech talent.
Source: the star.ca
5. The provincial healthcare system makes it less expensive to provide comprehensive benefits which helps retain sought after talent.
Behind salary and growth opportunities, employee health benefits are one of the most competitive ways tech companies can attract and retain talent.
By offering preventative healthcare services, like remedial massage, acupuncture, gym memberships and Employee Assistance Programs for mental health, employers can foster greater productivity in the workplace. These add-ons are especially helpful for employees working in fast paced start-up environments.
All citizens and Ontario permanent residents get provincial health care, which covers the cost of doctor examinations, medical testing, emergency care, and hospital care. Because of this, employee health benefits costs are 5 times less than in the US.
Standard coverage allows companies to offer a more premium health package at a fraction of the cost to stay competitive.
6. Easier immigration processes for STEM talent and their families.

Toronto's growth has been built on immigration, welcoming more new immigrants than New York, LA and Chicago combined.
The Global Talent Stream is a visa program that works to fast track work visa applications for eligible foreign workers with skills required by Canadian employers in Science, Technology, Engineering and Mathematics (STEM).
Canadian requirements allow for corporations setting up in Canada to transfer their senior personnel with minimal red tape.
The program allows employers to submit what's known as a facilitated Labour Market Impact Assessment (LMIA), which waives the requirement to prove they tried recruiting in Canada first, and expedites the approval process. If the LMIA finds there are no Canadian workers available to do the job, a work visa can be obtained in as little as 10 business days, allowing employers quick access to critical, highly skilled labour.
If you'd like to learn more about setting up an office and hiring in Toronto, click the button below to schedule a call.